The ICCYBER ICMEDIA 2015 Joint Conference will take place in Brasília, the capital of Brazil.
The city is recognized by UNESCO as a World Heritage Cultural Site. It was inaugurated in 1960 and is considered a true work of modernist architecture. Its characteristics and organization in four scales - monumental, residential, gregarious and bucolic – make it a singular city with relevance in the history of urbanism. The beautiful buildings conceived by urban planner Lúcio Costa and the architect Oscar Niemeyer, together with the works of artists like Bruno Giorgi, Alfredo Ceschiatti, Athos Bulcão and Burle Marx, among others, scattered throughout the city, complete an inspiring setting that makes Brazilians proud.
Throughout the city, we find monuments full of significance and architectural beauty. Among them, the highlights are: the Metropolitan Cathedral, the Esplanade of Ministries, the Itamaraty Palace, the Palace of Justice, the Presidential Palace, the Alvorada Palace, the JK Memorial, the National Theater, the Museum of the Republic, the National Library, the National Congress, the Supreme Court, the National Mane Garrincha Stadium, the Digital TV Tower, the JK Bridge, the Army's headquarters, the Two Candangos statue, the Attorney General's Office, and the Central Bank of Brazil.
In addition to being the political and administrative center of the country, Brasília is also a cultural hub. In music, the city stands out as the cradle of important rock bands in the 1980s such as Legião Urbana, Capital Inicial, Plebe Rude and Raimundos, as well as other artists like Zélia Duncan, Cássia Eller, Ney Matogrosso, Oswaldo Montenegro and, more recently, Ellen Oléria. The city is also a reference for national cinema, as it holds the traditional Brazilian Cinema Festival since 1965.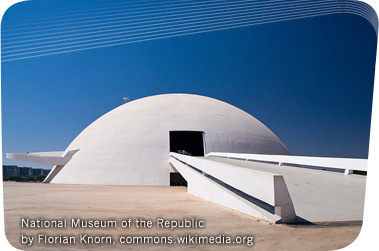 Home to several museums, parks, street fairs, theaters, restaurants and nightclubs, the city offers a wide range of entertainment and culture for all kinds of people, without social distinction.
Brasília was one of the host cities of the FIFA World Cup 2014. The city presented a renovated hotel infrastructure and gastronomic scene. The legacy of the World Cup is being used to host several major sporting events. It should be one of the supporting cities of the 2016 Olympics.
English